Who Are We?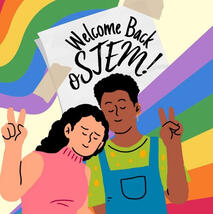 We are the oSTEM University of Houston Chapter. oSTEM stands for out in STEM and we are a non-profit professional society that seeks to empower LGBTQIA+ students who are pursuing careers in STEM.
Our Mission
oSTEM's mission is to empower LGBTQ+ people in STEM to succeed personally, academically, and professionally by cultivating environments and communities that nurture innovation, leadership, and advocacy.We want to create a diverse and inclusive community where everyone feels welcome and has a place they feel comfortable to be themselves. Everyone deserves a space to feel safe and feel like they belong.
Our Officers
Events
We do many events throughout the semester consisting of professional development workshops to provide professional growth, social events to allow members to get to know each other and have a great time, volunteering opportunities to give back to the community, and many more events.
Ongoing Event
Interested in helping oSTEM? We are currently doing a sticker fundraiser!
Upcoming Events
Click on the poster to find out more information or to RSVP for the event!
Interested in joining?
You do not have to be a STEM major, or be a part of the LGBTQ+ community to join, allys and all majors are welcome!
Join us on our discord or or follow us on instagram for more information regarding our organization and how to join!
Have any questions? Feel free to email us! [email protected]